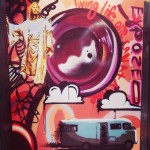 Gabriel Prusmack (Galveston, TX)
I am 27 years old and have been painting with aerosol cans on found objects for the past twelve years. Graffiti influenced work is usually the kind of art that either gets you into trouble or is seen to be unique and eye- opening. I have a background in art due to the influence of my late grandmother and two of my brothers. Graduating from Ball High school and Galveston Community College i've had the privilege of great art teachers such as Mr. Dunn, Mrs. Moore, and Mr. Stovall. They have made a tremendous impact on getting my work out in public with the encouragement of pushing me to stay consistent with art and passion. In my teenage years, I had the opportunity to take several summer trips throughout the West coast of California for visual inspiration which gave me a kick start in culture, music, and art. These experiences began my journey into the very fascinating "graffiti movement." After spending a great deal of time being an illegal graffiti artist and chasing walls to paint around the city, I felt a Call from the Lord to change my ways and approach graffiti art a different way. Using a different method I decided to strictly do legal work and commissions began coming in because of obedience. The work I focus on mostly is images of photography, transferred into stencils cut out by hand, finding and building metal/wood canvases, and finally using aerosol paints to transfer the original images to to found objects. This was a way I could express myself and use my talents without breaking the law, but now people actually want the ever appealing graffiti. Most of my work reflects on the Joy that has been given to me as a strength. With so much grace and mercy from Jesus Christ from illegal matters, it has completely changed the very way I paint presently.
Artist's Work
1500 McKinney St Houston TX United State...

City of Houston

Rosenberg St. & Avenue H Galveston TX Un...

Galveston

500 Baybrook Mall Friendswood TX United ...