About Houston Mural Map
HoustonMuralMap.com is a crowd-sourced community resource, created by UP Art Studio, with website developer and photographer Alex Barber.  Visit the UP Art Studio website to learn about why civic art is our passion. We have curated and managed mural projects and our signature Mini Murals program for nearly a decade.
The Houston Mural Map website launched July 15, 2020, with funding in part by the City of Houston through Houston Arts Alliance, with a Let Creativity Happen Digital Grant, 2020.
Our goal is to continually add murals, information, and resources to it.  If you can help as a sponsor or volunteer, please get in touch.
Contact:  info@upartstudio.org or HoustonMuralMap@upartstudio.org.
Mural Submittals & Information
We welcome submissions of new murals, and additional information or corrections about the street art installations that appear on the map. This site is an evolving work in progress.
Please use this form for all submissions and corrections. At a minimum, we need the location, and a high-resolution photo released for use on this website. Thank you!
About UP Art Studio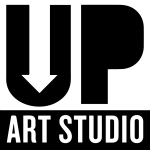 UP Art Studio is a unique consulting firm founded in 2012 by Noah and Elia Quiles.
UP Art Studio has successfully managed hundreds of projects since 2012. The firm facilitates transformative award-winning projects – achieving its goals through collaborative efforts with artists and communities. They facilitate projects in communities nationally, engaging people and achieving community development via the work of local and international artists.
The firm's principals and founders, Elia Quiles and Noah Quiles, are a husband and wife team. Together, they and their associates offer proven experience in all areas of program and project management and delivery.