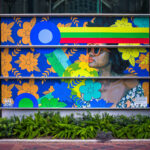 DeeJon
A collaborative duo by Dandee Warhol & Marjon F. Aucoin
Marjon is a classically trained fine artist whose work depicts lifelike subjects in enchanted surroundings. The models are sinuous and classically beautiful, with luminescent skin and flowing hair, often immersed in natural elements such as smoke, water, or woods. Across her paintings, you'll find elements embedded that hint at fantasy: a twinkling star, an entwining, mysterious forest, or creatures that play as friends and foe. Marjon's choice techniques as an artist produce works that emanate from the canvas, with a quality akin to the memory of a story you knew as a child.
Dandee is a self-taught artist who prioritizes the bold, graphic use of color in meticulously designed geometrical patterns. Dandee is also an established curator in Houston, who helped lay the foundation for the thriving local art scene even as it first emerged, by organizing exhibits and fostering community among creatives. In 2010, he curated an all-female artist show, and it was then he met Marjon. In addition to Marjon's work as an artist and illustrator, she is the co-founder of the W.I.D.E. School, a progressive learning center for children, located just outside of Sugar Land. She serves as the director of the art program, as well as creative director of the school's educational program. Dandee works alongside her, educating children as young as 18 months old in the foundational study of art. The program, the Yellow House Atelier, continues to grow as a hub of creative innovation. Their students have hosted a range of artists, including photographers, composers, painters, sculptors, and dancers from around the city. Hand in hand, the students at the teachers co-create the journey of learning, paving the many ways art can be used as a medium of education.
Artist's Work
1313 Main St Houston TX United States

Downtown

300 N York St Houston TX United States

East End

1213 Maury St. Houston TX United States

Northside

1657 Westheimer Rd Houston TX United Sta...