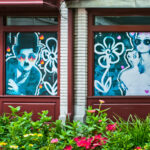 Yoshio Romero
For over a decade now, Yoshio has been molding his talents in visual arts with various opportunities from clients throughout Houston. From 2016 to 2019 his art evolved into doing murals and tattoos, allowing him to introduce a new element to his work and extend the range of his talent even further. With his recent opportunities to develop his creative freedom, he has made designs for logos, tattoos, murals and more. Studying some of the most prominent artists of the Renaissance era while in college is what initially inspired him to pursue his passion for creating art. Whether it be the infamous Warhol, Banksy, Space invader, or just other artists he follows on instagram- he is surrounded by inspiration.
He has been most recently featured in "The Heights Pages" summer 2019 issue. His work has been featured in Galerie Spectra, Hardy and Nance studios, Chocolate and Art show, Houston Art crawl, Pancakes and Booze show, Burtonesque (Tim Burton tribute show), several business throughout the Greater Houston area and more.
He is looking forward to the expansion of his art business by creating his first pieces of merchandise including vinyl stickers, T-shirts & prints as well as engaging more in art shows around the U.S.
Artist's Work