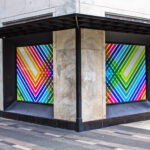 Steffany Brady / Blauhaus (Dallas, TX)
A Native Colombian, Steffany Brady currently resides and works in Dallas TX where she has been honing her skills in mural painting. Her signature geometric style is composed of solid painted fields juxtaposed against more fluid paint swashes. Larger shapes are deconstructed via overlap with color, creating playful and vibrant compositions.
Steffany's work is derived from her background as a graphic designer. She is passionate about architecture, pattern/textile design, color theory, and naturally occurring geometry. Her Colombian background is also reflected in her choice of colors.
Back in 2014 she started her artistic career with her first series "Nature of Geometry" exploring complex polygonal art utilizing her expertise in graphic design while leveraging her technical skills in Adobe illustrator. Her first series, The Nature of Geometry, was grounded in the concept of biophilia, drawing inspiration from water, earth, and the resultant of the two; plant life. Once each piece is completed, it makes the leap from digital to analog through a dying process onto brushed aluminum.
She is currently developing her fifth art series called "Singularities" where she continues to play with geometric shapes, this time using circles, but deconstructing them with various waves of colors and movement.
More recently she made the leap from canvas to mural, now working on her fourth mural for a residential client under Blauhaus, a design-build studio founded in 2014 by Steffany and her husband offering a number of design services including furniture, murals, graphic design, architecture, and home goods.
Artist's Work