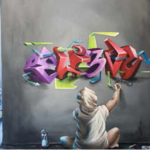 Jesse de Leon
Jesse de Leon was born and raised in Houston, Texas. His interest in art began as soon as he could pick up a pencil. In grade school is really where his love for art became a passion. He was trusted and encourged by his academic teachers to share his talent with his school. He would be asked to start making banners for their graduations and banquets. While working at a design firm, his interest in creating murals and faux finishes was born. He has since painted murals, canvases, and faux finishes for designers, businesses, and individuals across the country. As well as murals, Jesse has been commissioned to paint original works of art. His passion to inspire a new generation has led him to work for an imporverished school in Haiti. He travels there every year to teach students and bring hope in the murals he creates. The discipline and dedication required to work for himself has encouraged Jesse to expand beyond "creating to live" as contract artist and working more towards "living to create" as a fine artist. His work vary from impressionism to the abstract, and he finds that composition and use of materials have more influence in his creative process than does the subject.
Artist's Work
1000 McGowen St Houston TX United States...

City of Houston

5930 Bellaire Blvd (on Mullins Dr.) Hous...

Gulfton

5919 Rampart St. Houston TX United State...

Gulfton

18409 Timber Forest Dr Atascocita TX Uni...

Atascocita

Arts District Houston (AKA Washington Ave)

6700 Bintliff Dr. Houston TX United Stat...