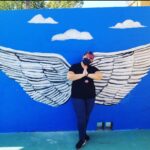 Catarina Clarkson
Catarina Clarkson is a artist who specializes in abstract landscapes using acrylic paints and portraits. Her inspiration comes from nature and the environment around her.
She is a graduate of The University of Texas at Austin class of 2014 with a Bachelors of Art. She also attended the High School for Performing & Visual Arts (HSPVA!), class of 2010. She has been teaching elementary art in Houston for three years. Her work is featured in several books including "Intercambio," (2012) which were watercolor landscapes that she painted while teaching abroad in Brazil as apart of the US-Brazil Connect program. Her paintings are also featured in the book titled "The Staff" (2020) which features employed artists of The Museum of Fine Arts, Houston. In 2019 her art car titled "Flower Power" was in the Houston Art Car Parade and was featured of the promotional material.
Her most recent works are murals located at Old Town Harrisburg in the East End Houston.
Artist's Work